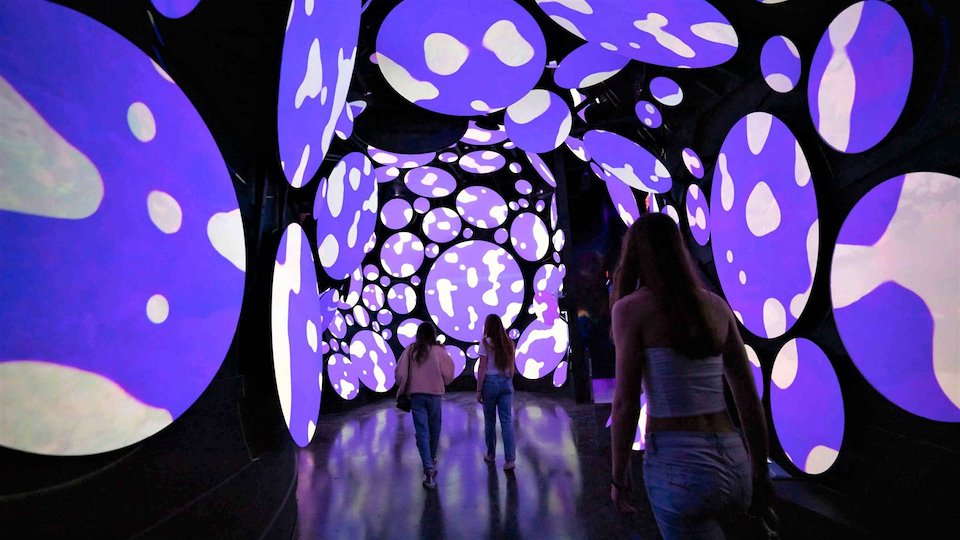 [ Photo: Christopher Brielmaier ]
BRAINWASHER
(iter. 1, Basal Beat), 2020
36 seconds, loop
Multimedia audiovisual installation
DESCRIPTION
Permanent 15-channel augmented reality installation featuring over 200 individually-mapped projection displays. The installation is a cocoon of media, meant to envelop and overwhelm.
It's everywhere..
CONTEXT
The animator and video artist Stan VanDerBeek identified early on in the advent of telecommunication that the amount of visual information being run through our skulls was steadily increasing, and starting to make heads spin. He referred to the mounting bombardment of images as "visual velocity".
If a picture is worth a thousand words, and video plays at a speed of at least 30 frames per second, then watching a video is like getting blasted with 30,000 words PER SECOND! And here we are gawking at our phones and laptops all day. It's like running a fire hose through our skulls. It's no surprise hardly anything from the stream ever sticks. It's even less of a surprise that when something from outside the stream - such as a rare venture outdoors - leaves far more of an impact.
The Brainwasher was conceptualized, in part, to recreate and exaggerate experience of inundation and overstimulation we are subjected to within our screens. Then, in direct opposition to the cacophony of over 200 discordant streams, the Brainwasher stretches a singular ultra high resolution nature scene across every screen. By juxtaposing the extremes of discordance and harmony, the Brainwasher heightens each experience, and posits an approach of unity and synchronization that offers to put our primal minds at ease.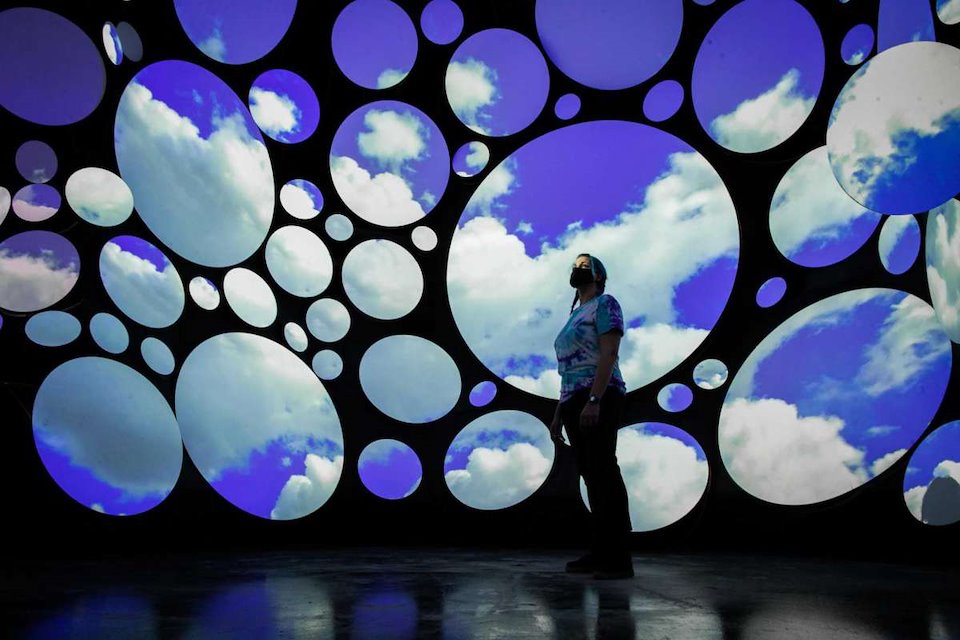 [ Photo: Marie D. De Jesús, Houston Chronicle / Staff photographer ]
AN EXPLORATION of FORM
As with many of my works, the Brainwasher is an exploration of the relationship between the physical aspects of display systems (square, circular, flat, faceted, glossy, fuzzy, singular, multiple, etc.), and content (the virtual images recreated using pixels).
The Brainwasher explores alternative physical forms of virtual display in three specific ways.

[ Screen shape study ]
CIRCLE vs SQUARE
The Brainwasher is based on a circular display, a purposeful departure from the rectangular displays we see on televisions, computers, and phones everyday.
Since the standard display arrived at its rectangular shape because of its efficiencies, any deviation from this standard comes at a cost to efficiency. So, while selecting an alternate shape it was important to keep the amount of display area sacrificed to a minimum. Hence, the early interest in hexagons, the bestagons.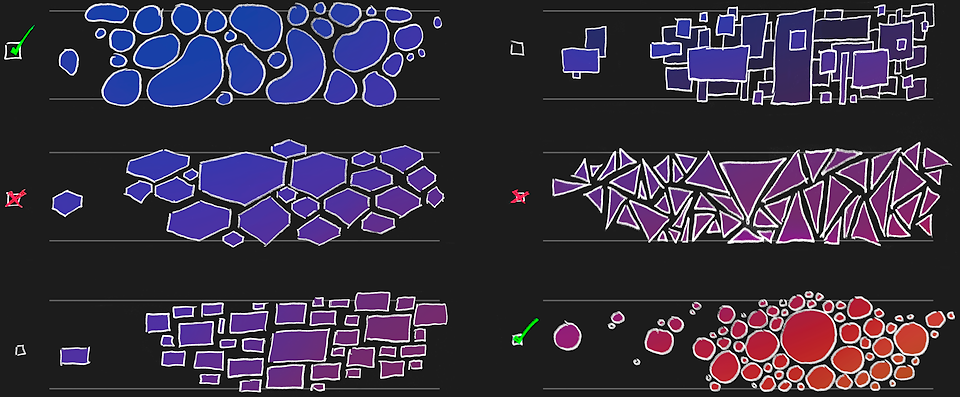 [ Shape composition study ]
MULTIPLE vs SINGLE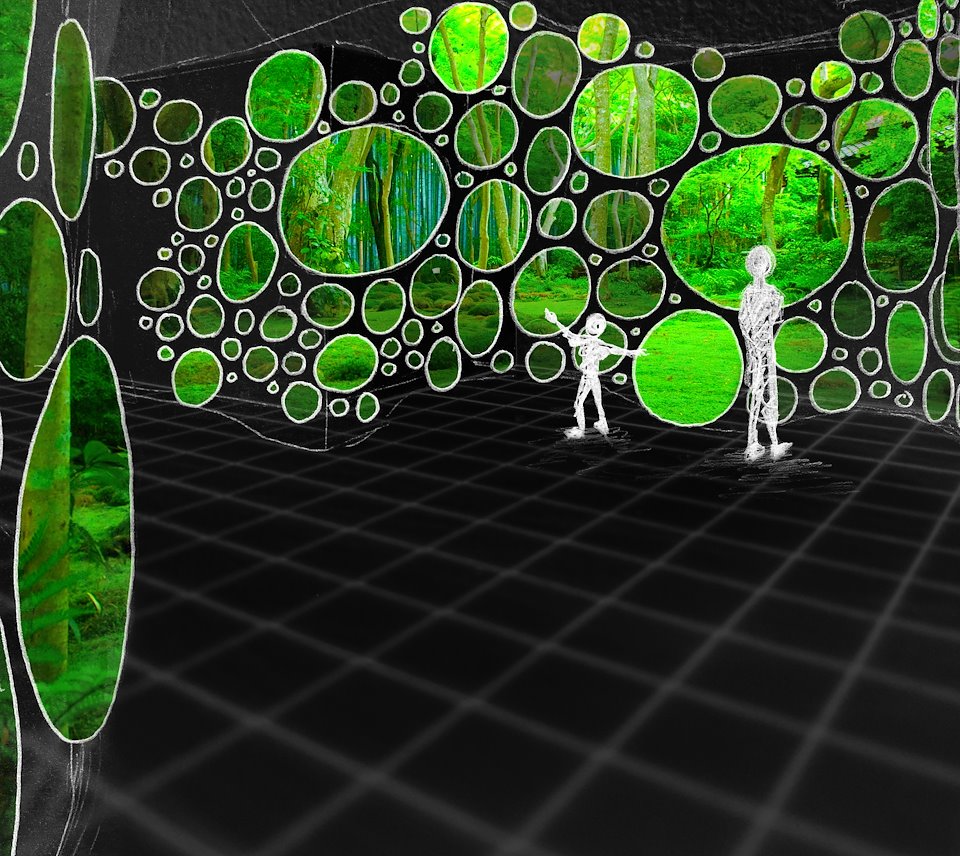 [ Conceptual sketch ]
SPATIAL vs PLANAR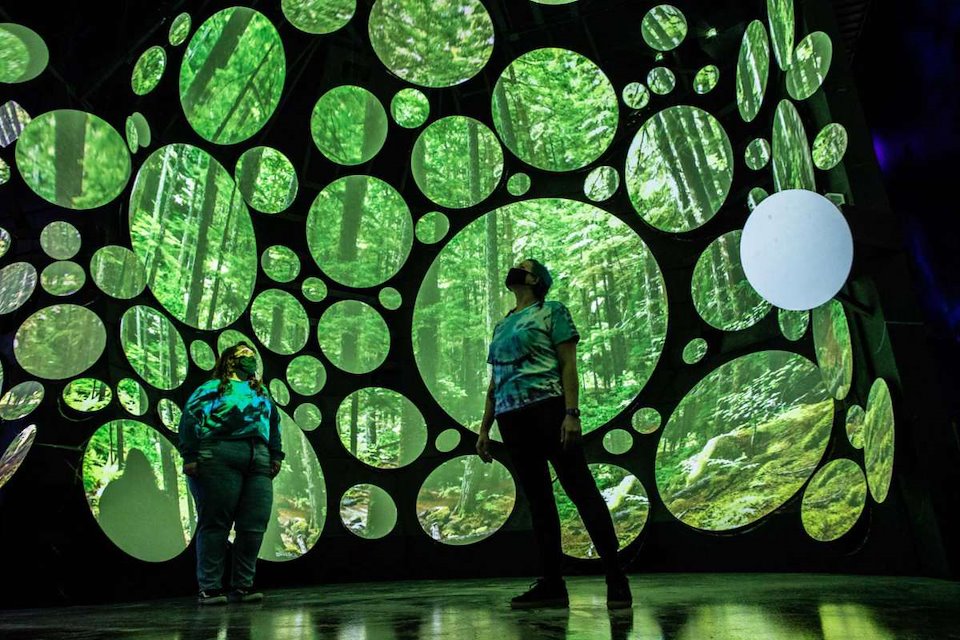 [ Photo: Marie D. De Jesús, Houston Chronicle / Staff photographer ]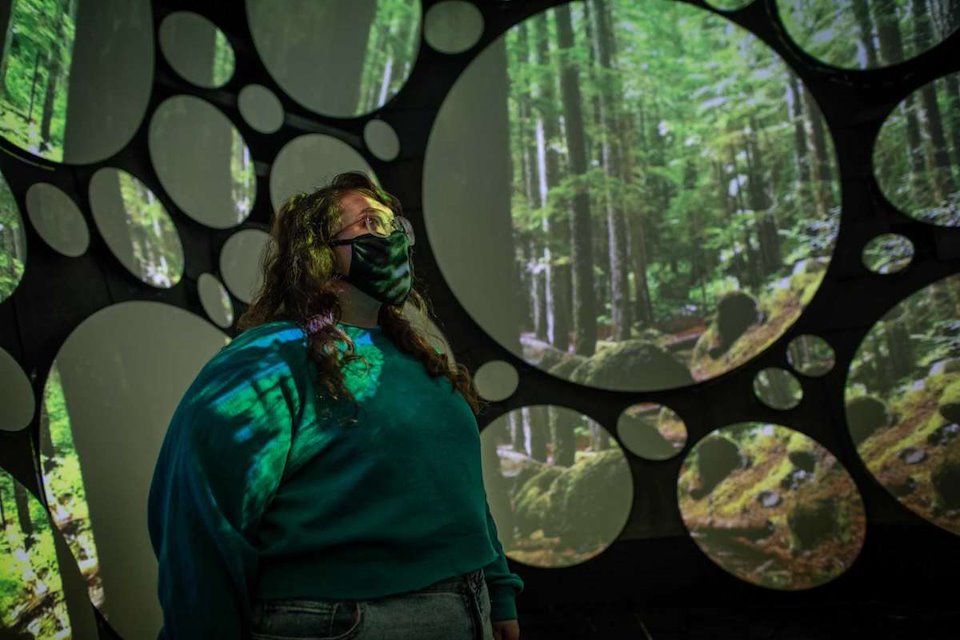 [ Photo: Marie D. De Jesús, Houston Chronicle / Staff photographer ]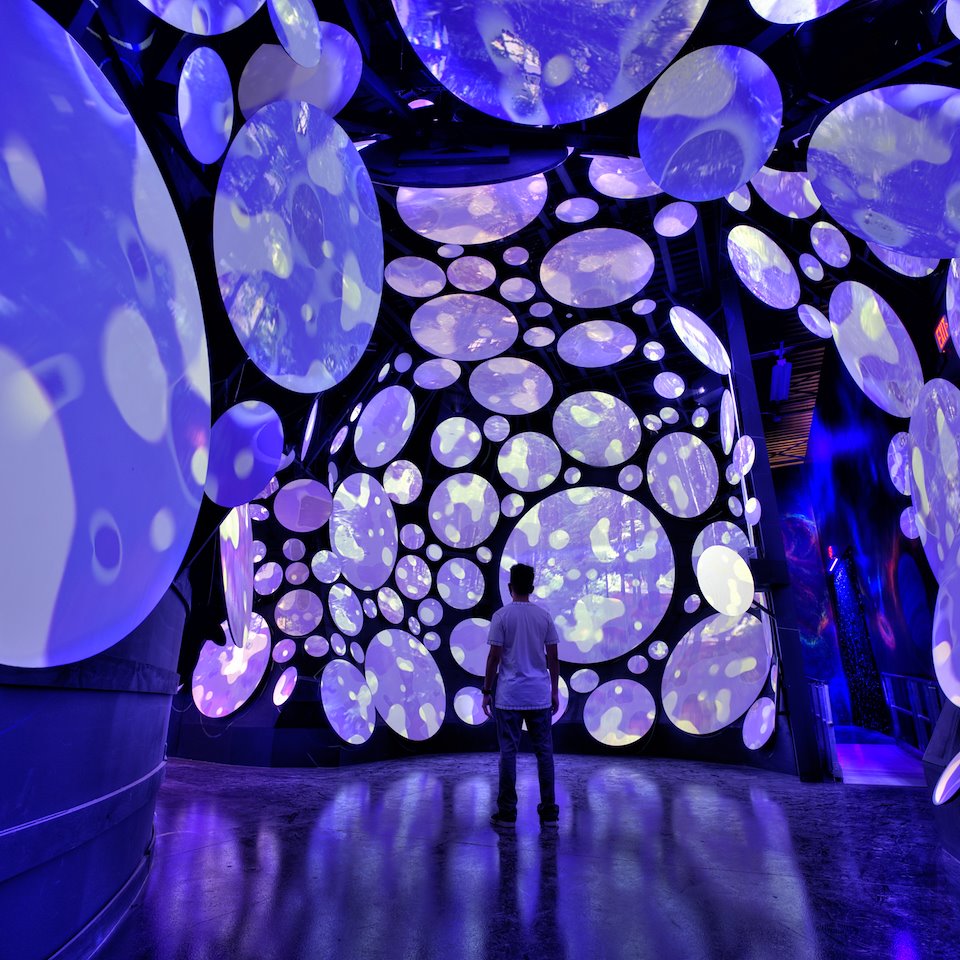 [ Photo: Christopher Brielmaier ]
CONCEPTUALIZATION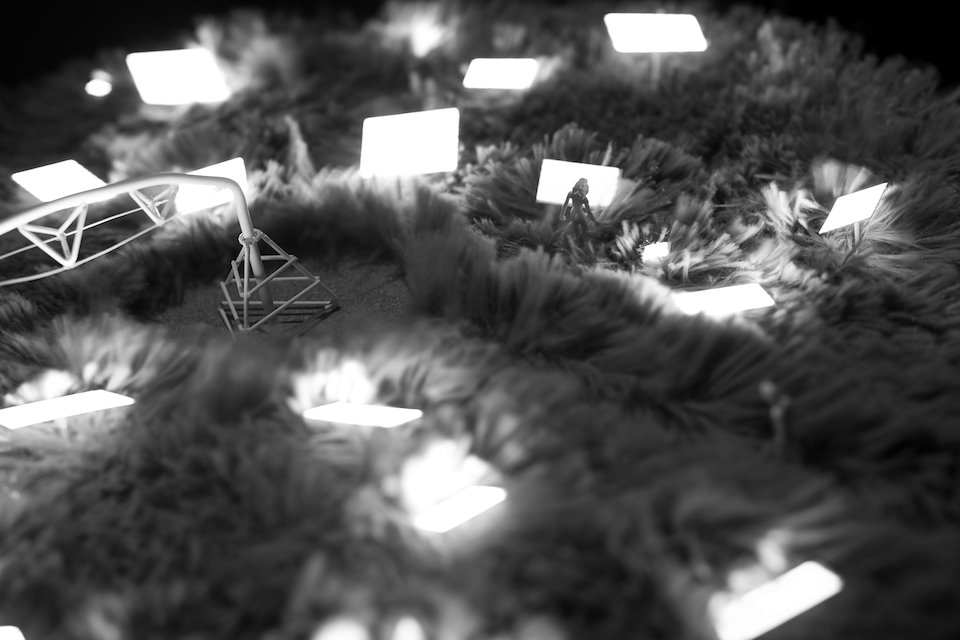 [ Center Pivot (iter. 1, Social Media Feedback) (2017) - Joshuah Jest ]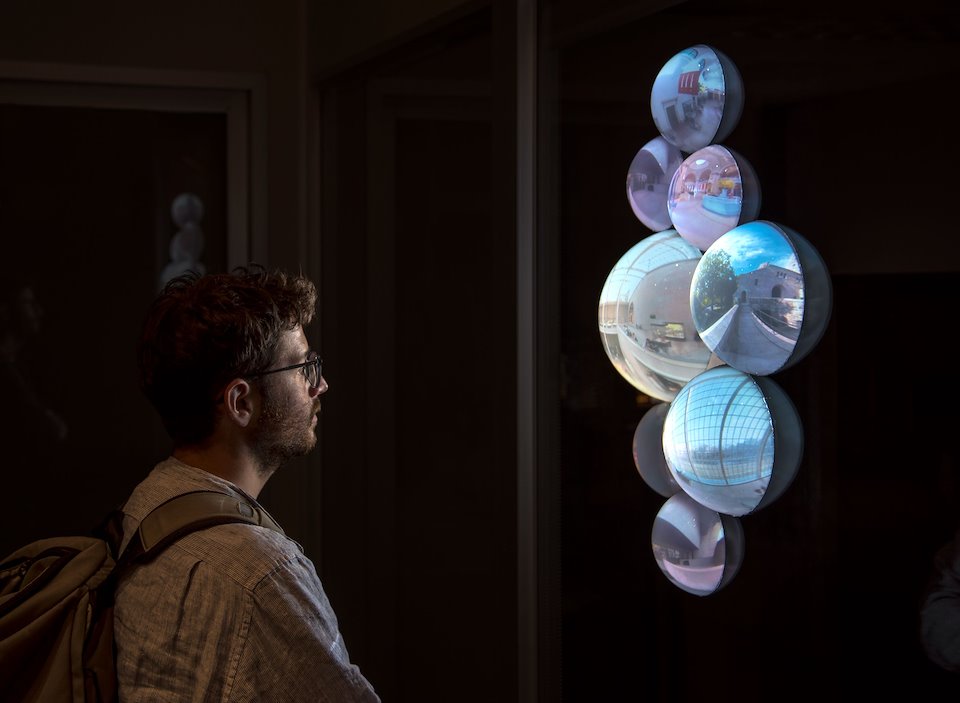 [ Vantage Condensate (2018) - Joshuah Jest ]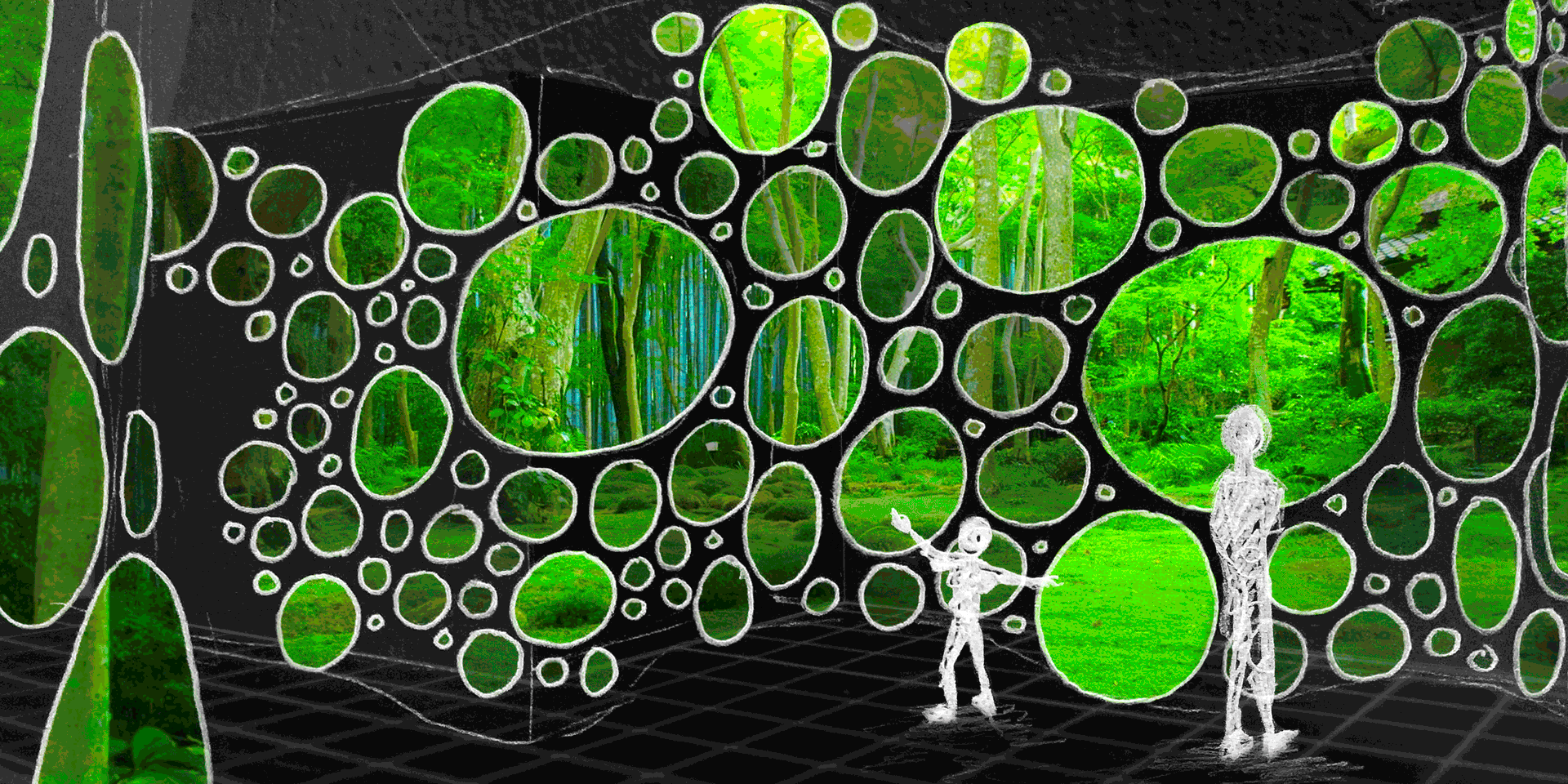 [ Conceptual sketch with example content gif ]
CONTENT DEVELOPMENT
[ Motion and content study ]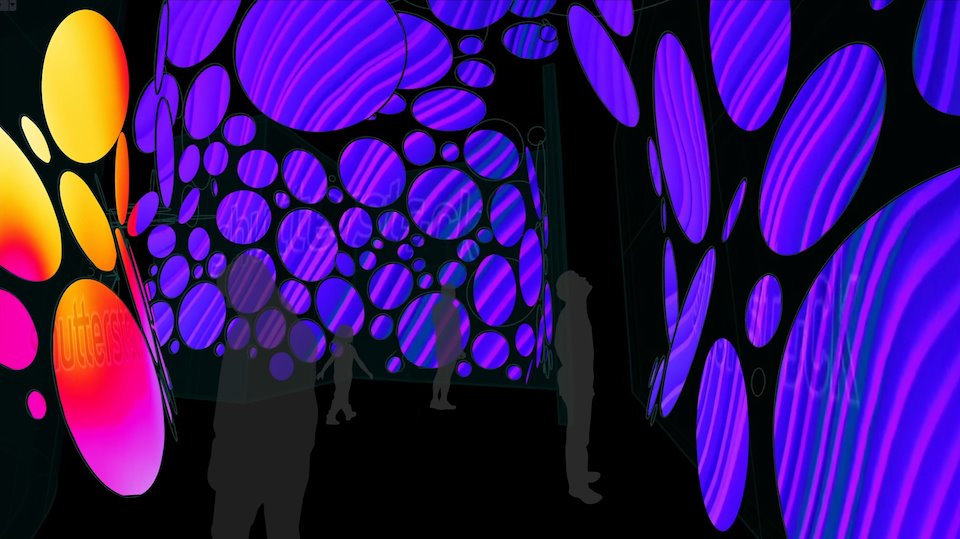 [ Still from motion and content study (Fins) ]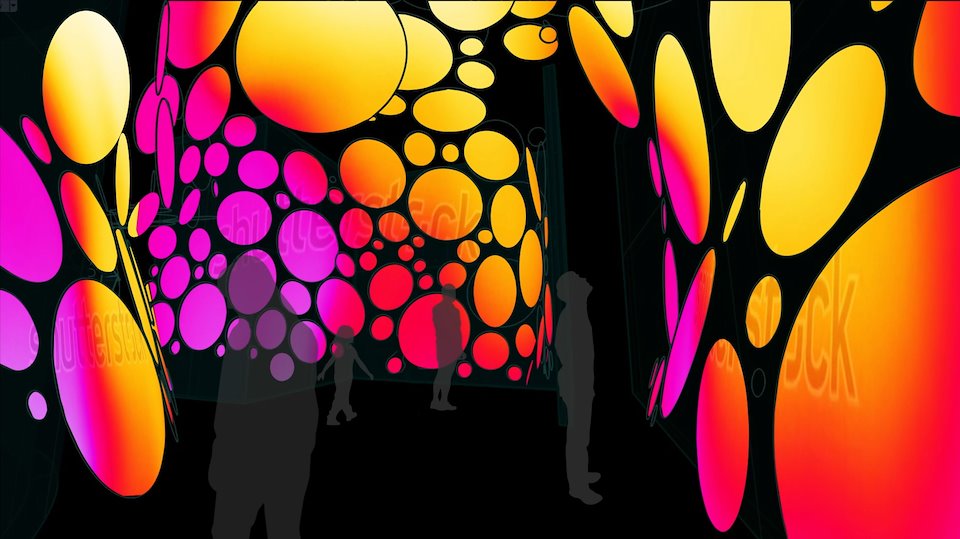 [ Still from motion and content study (Color gradients) ]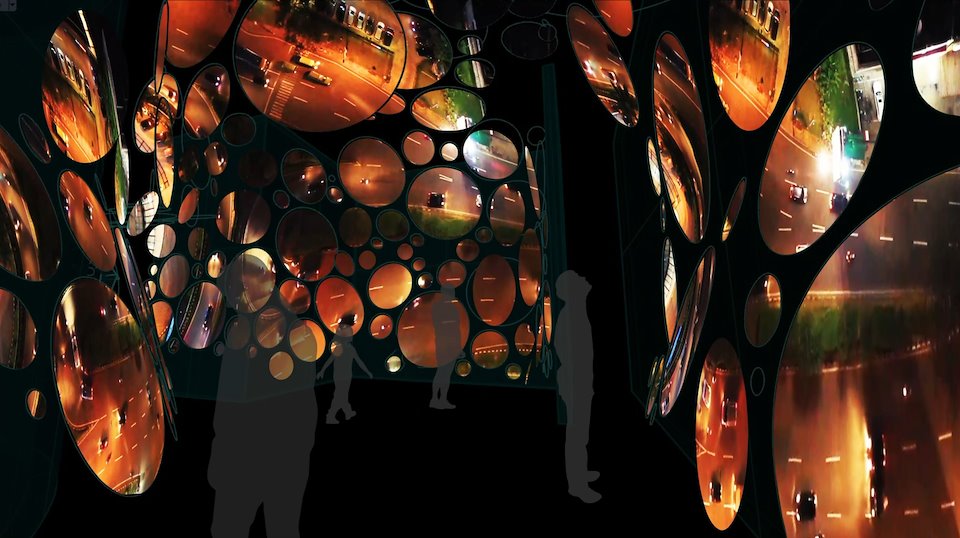 [ Still from motion and content study (Aerial traffic) ]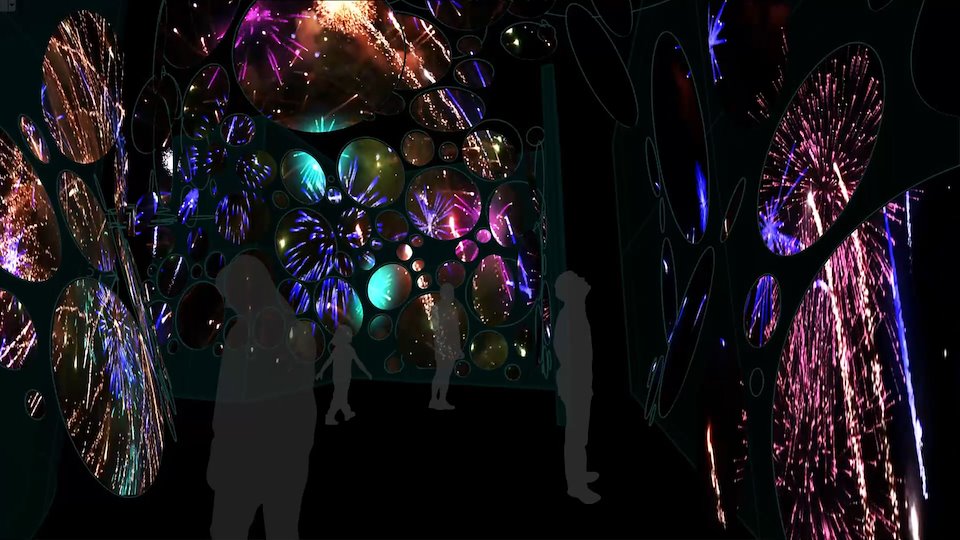 [ Still from motion and content study (Fireworks) ]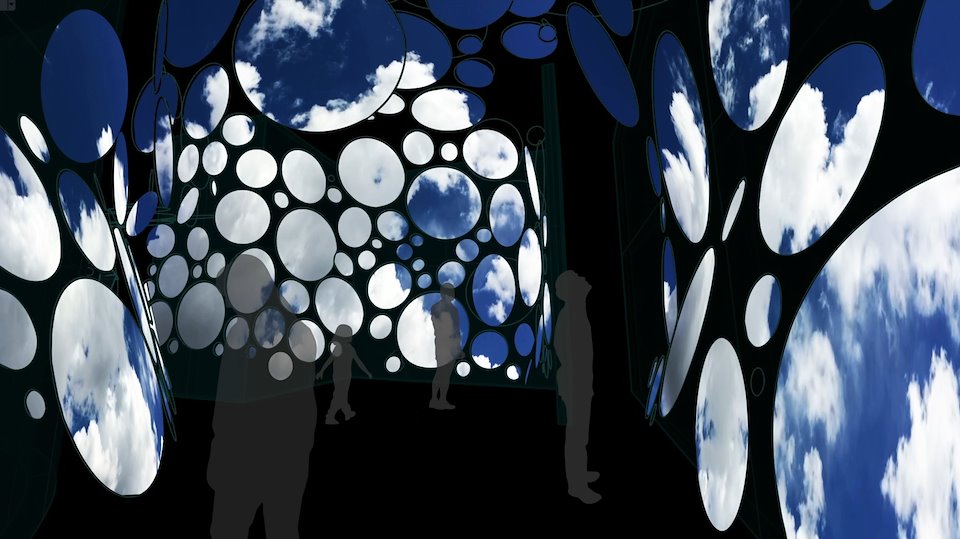 [ Still from motion and content study (Clouds) ]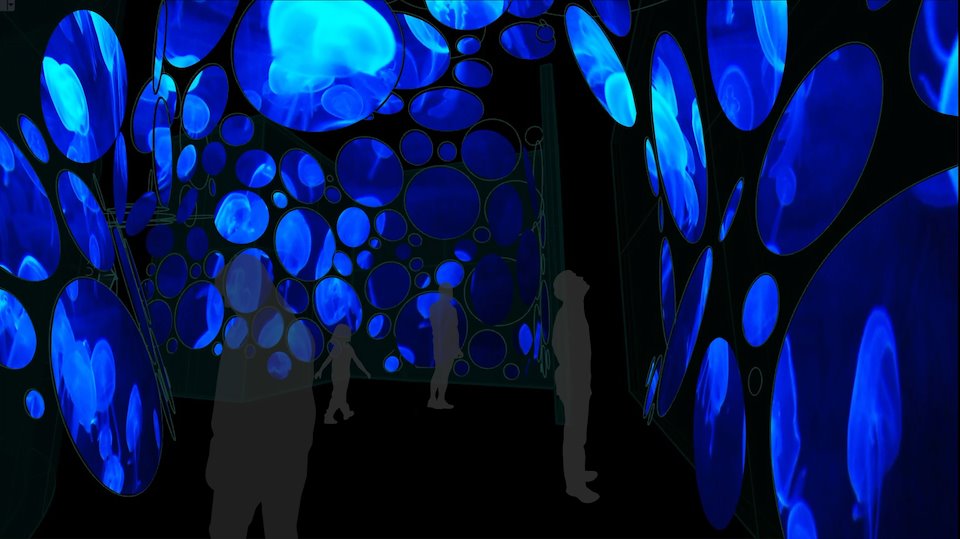 [ Still from motion and content study (Jellyfish) ]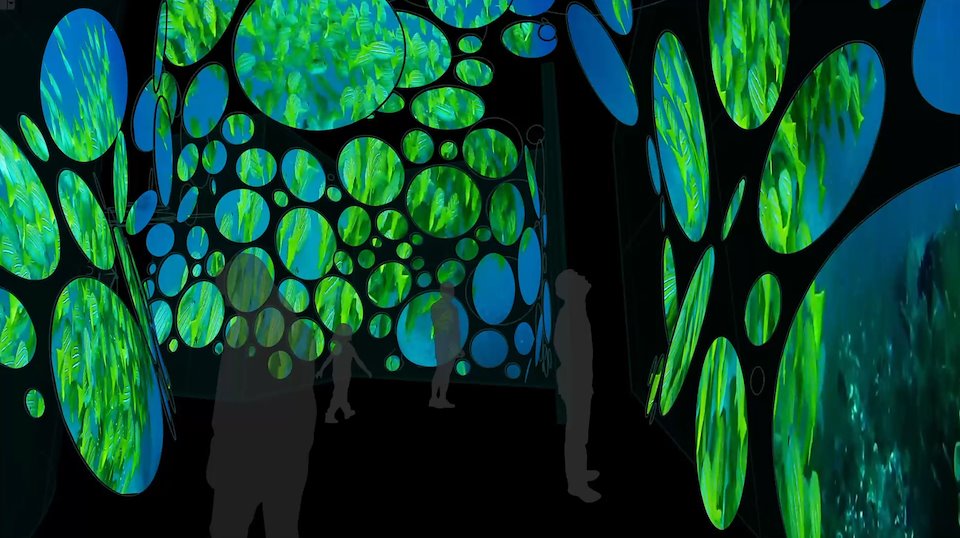 [ Still from motion and content study (School of fish) ]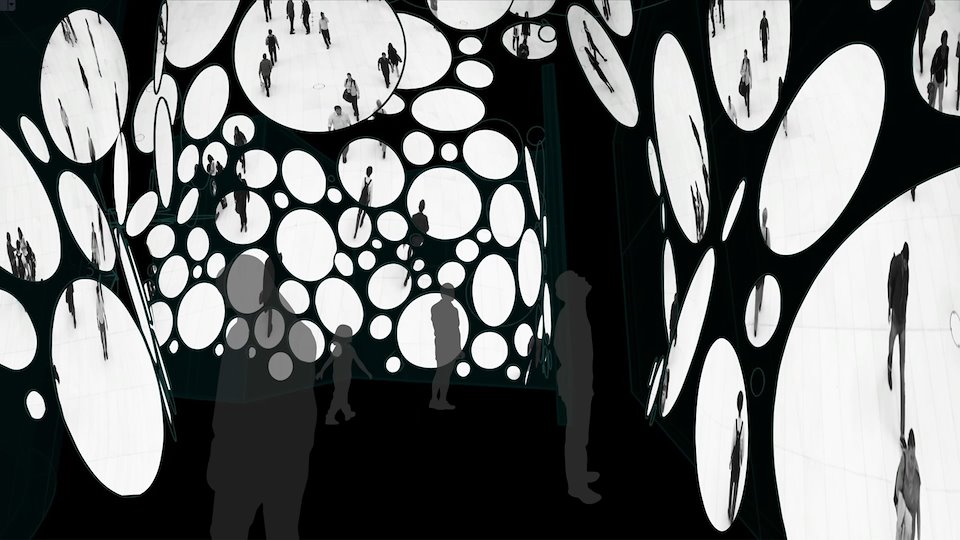 [ Still from motion and content study (Pedestrians) ]

[ Foliage infill study ]
INSPIRATION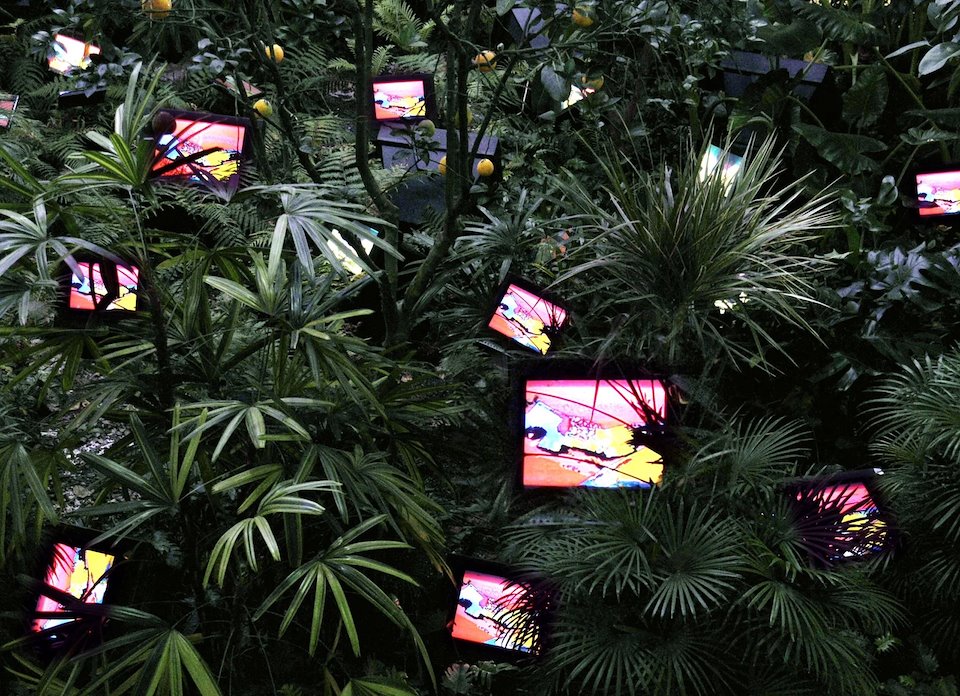 [ TV Garden (1974) - Nam June Paik ]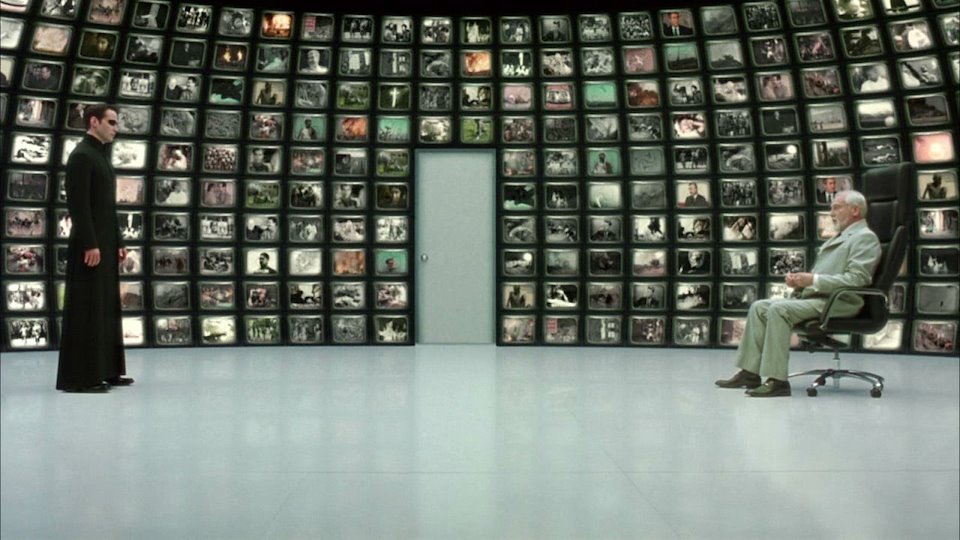 [ The Architect scene from The Matrix (1999) ]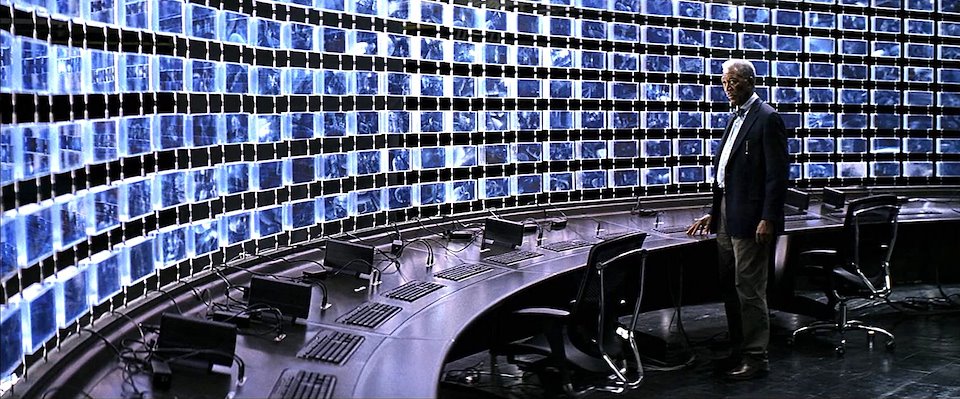 [ SONAR surveillance machine from The Dark Knight (2008) ]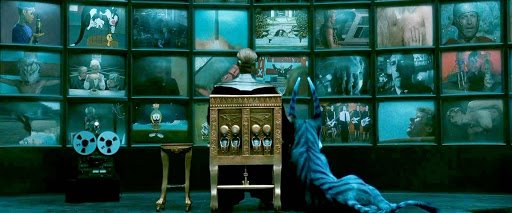 [ Adrian Veidt a.k.a. Ozymandias in his Antarctic retreat. Watchmen (2009) ]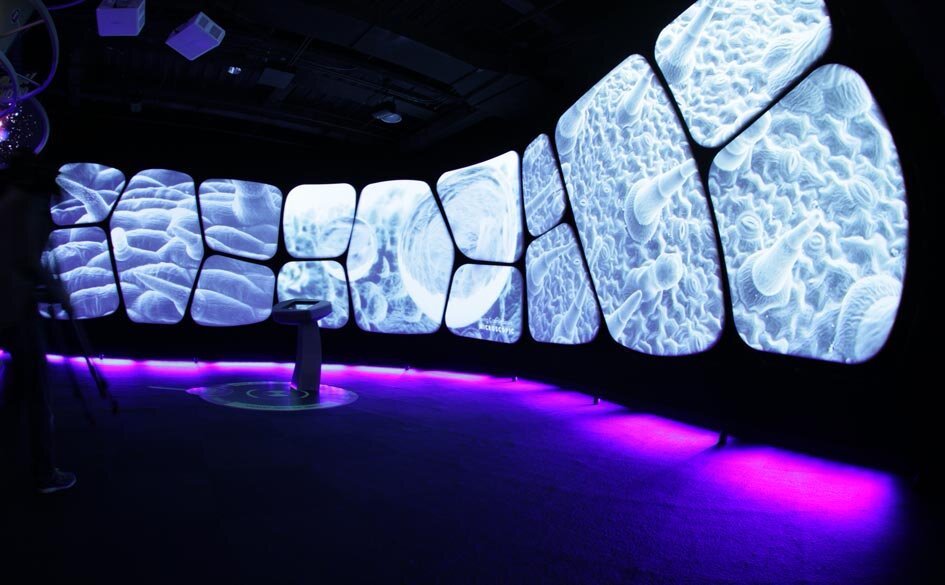 [ Cosmology Gallery (2012) - M1 Interactive ]
[ The Seven Screen Pavillion (2012) - Kanye West and OMA ]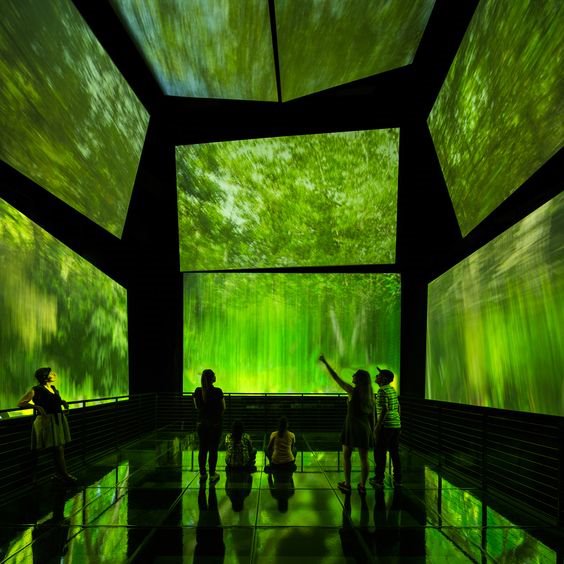 [ Panamarama (2014) at the Biomuseo - Frank Gehry ]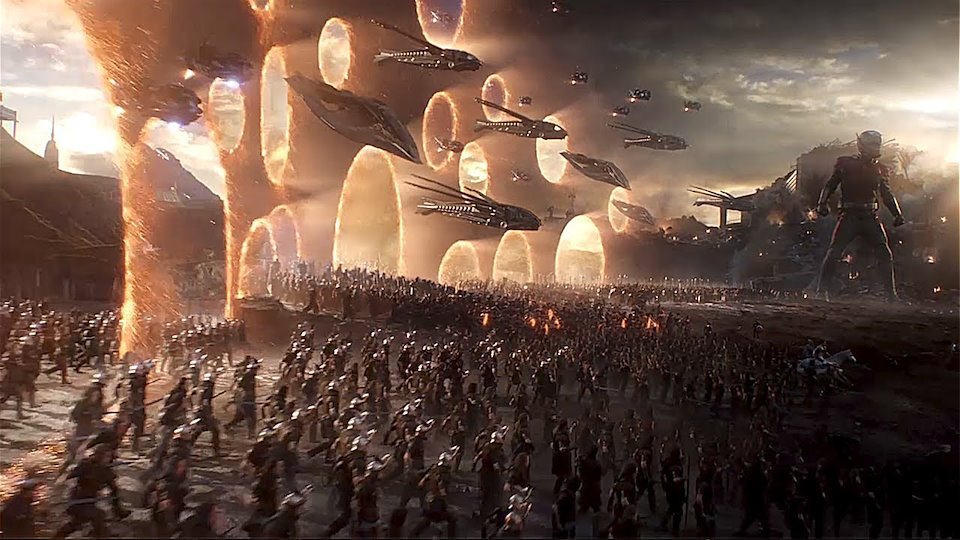 [ Avengers Endgame (2019) ]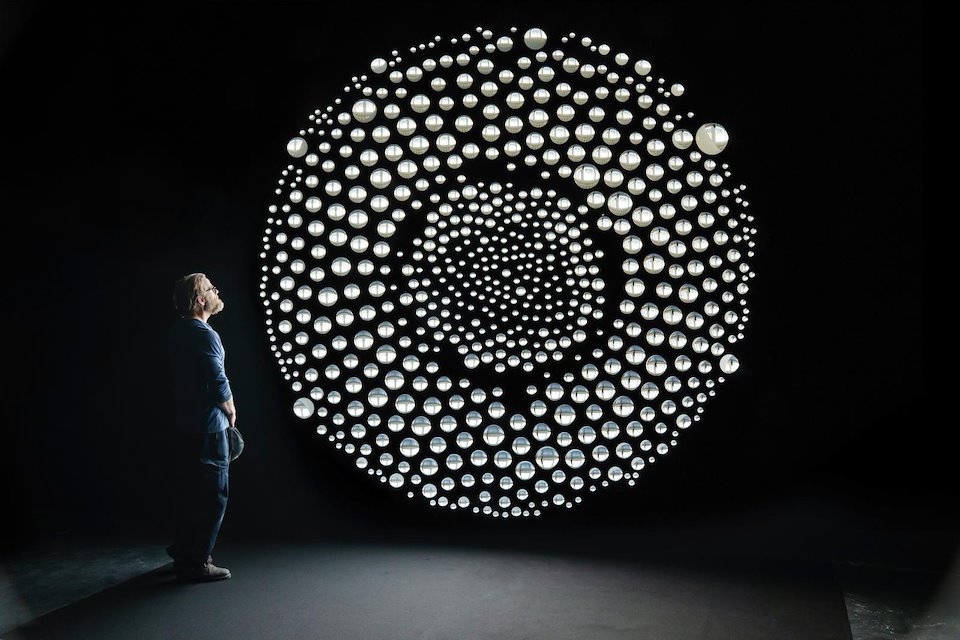 [ Algae Window (2020) - Olafur Eliasson ]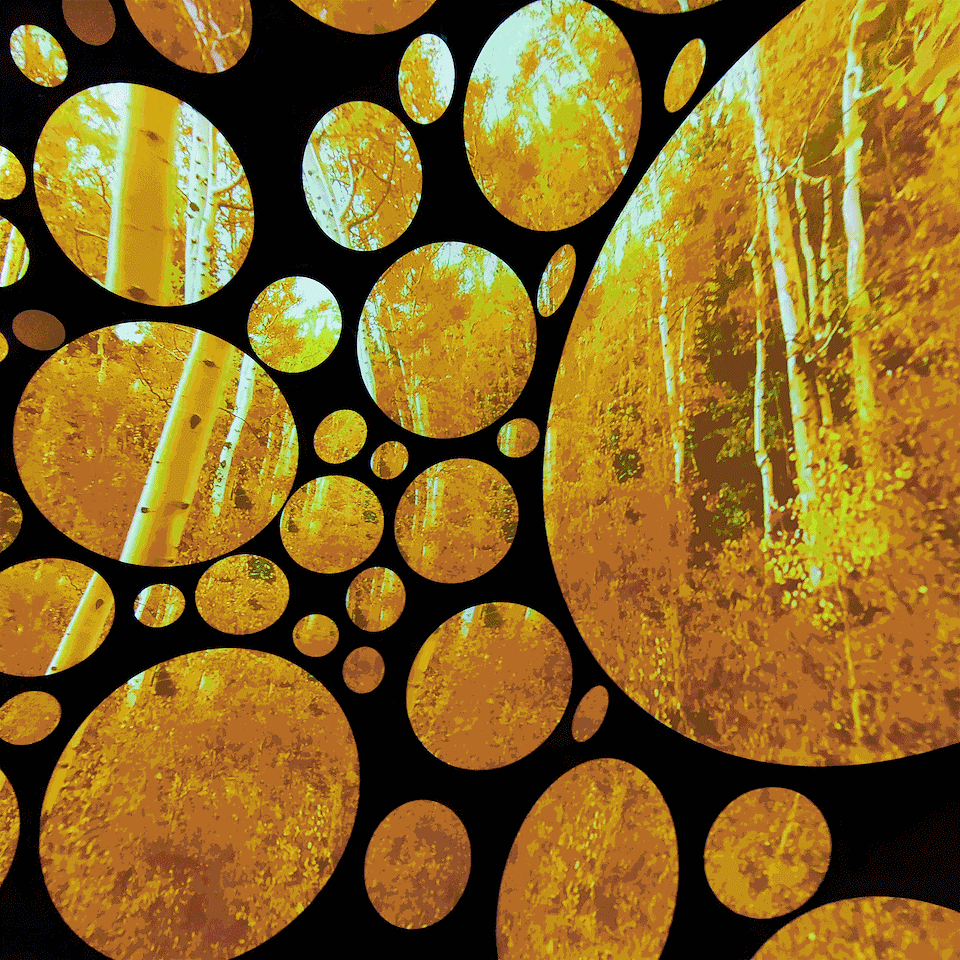 BRAINWASHER
| | |
| --- | --- |
| Role | Artist / Designer |
| For | at Seismique |
| Date | December, 2020 |
| Commissioned By: | Seismique |
| Special Thanks: | Professional Scenic Services |